Education in the Netherlands
In the Netherlands education is compulsory by law for the ages from 5 to 18 years for all children who are living in the Netherlands. Compulsory education runs in principle from 5 to 16 years plus one or two years until the attainment of a diploma.
Primary school
Children at ages of 4 to 12 attend Dutch primary schools close to the places where they actually live. This school has eight grades, from group 1 through group 8. The difference between primary schools can be religious or educational. All primary schools are monitored by the Dutch Government.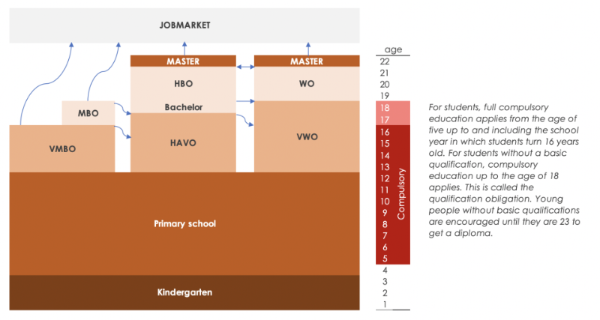 Secondary education
After the age of 12 children attend a secondary school which has different levels:
preparatory vocational secondary education (vmbo) – 4 years in duration

senior general secondary education (havo) – 5 years in duration

university preparatory education (vwo) – 6 years in duration
Choice for a level is made supported by the advice of the Primary school and the results of a test.
Higher education
There a two different types of higher education in the Netherlands:
HBO: vocational education which is professionally oriented
For access to bachelor's programs at the HBO the minimum requirement is HAVO or MBO.

WO: scientific education which is research oriented
For access to bachelor's programs at the WO the minimum requirement is VWO.
What are Public Local Schools and where to find them?
Public local schools are government-funded, and all children, including expats, can attend them free of charge. However, most schools will ask for what is known as a parental contribution. This covers activities such as excursions and extra-curricular activities. At the age of 16, school fees apply but as these are subsidised by the government, the cost of public school remains far lower than that of international schools.
Find local schools (in Dutch)
Are there Bilingual schools in the Netherlands?
Yes. at these schools children are taught in English for 30% to 50% of the day, from the age of 4.
Please notice that at a bilingual school 50% of the time Dutch will be the spoken language. Also the school leaving exams at the end at the secondary school are in Dutch. For children who doesn't adapt the Dutch language very easily this is maybe not a good option.
Some bilingual schools offer special programs for non-Dutch speaking speakers.
Are there any International Schools in the Netherlands?
Around and in the main Dutch cities there are both private and public International Schools. Some international schools are partly funded by the government and others are private. For subsidized international schools, the annual fees are between €3,600 and €8,500, depending on the school and grade level. Subsidized schools generally offer the International Baccalaureate (IB) curriculum.
This is easily transferable to other IB schools in other countries and classes are mostly taught in English. Fully private schools have fees upward of €12,000-€26,000. Some of these schools offer the specialized curricula of other countries (i.e. French, Japanese, American, or British), while others follow the IB curriculum.
Find International schools:
Foundation for International Education in the Netherlands
Dutch international schools
More info about the Dutch schools system and finding a school?