Brought on by the abrupt departure of Prime Minister Mark Rutte in July – who served for 13 years– Dutch elections will now be two years earlier than anticipated.
Taking place on November 22nd this year's elections will be more decisive than ever.
As expats and highly skilled migrants, understanding the issues on Dutch voters' minds and the leanings of favored political parties is critical as you navigate life in The Netherlands.
Dutch Voters: Leading Political Issues
According to AD Nieuws, there are three main topics of importance among the major parties and Dutch voters:
immigration,

purchasing power,

Dutch healthcare system.
Moreover, within these three main topics voters also highlight energy, housing shortages, and the "green transition" as areas of concern.
Immigration
Mark Rutte, and his party collapsed over a bill to reduce asylum seekers, and immigration – including foreign workers. However, this remains a key issue to voters in NL.
As noted by the Associated Press (Nov. 2023), candidates across The Netherlands are pledging to tackle migration issues crystallizing in Ter Apel (200 kilometers northeast of Amsterdam).
Consequently, the town is now a perfect example of the Dutch struggles to house large numbers of asylum-seekers.
Presently, some of the leading parties' Dutch voters will see on the ballots (like NSC) are also pledging to curb the amount of labor migrants and foreign students, which make up some 40% of university enrollments. 
Purchasing Power
Purchasing power refers to the number of goods or services that a certain amount of money can buy at a given time. According to the AD Nieuws poll, this is a key issue among Dutch citizens.
Markedly, over 32% of the people surveyed expressed strong concern over the cost of living. Therefore, voters are looking for parties focused on stabilizing the rising costs of housing, groceries, transportation, and other fixed costs.
Accordingly, the belief held by Dutch voters is that if the government pivots what it pushes money into, purchasing power can be restored.
As an example, if the government spends less on asylum reception and migration, citizens will have more money to afford inflating costs of living.  
Dutch Healthcare System
Thirdly, voters are growing increasingly concerned over the current access to care.
Despite the number of qualified GP's increasing in The Netherlands, many residents and citizens are unable to access or receive primary care.
According to Nederlandse Omroep Stichting (NOS) since the start of 2023 more than half of current Dutch GP's have a freeze on new patients and openly express a lack of capacity for handling the increasing demand for care.
Therefore, many voters want the incoming government to spend more money on strengthening the Dutch healthcare system.
Dutch Elections: Political Parties
With 150 seats up for grabs in the Dutch parliament, a political party would need 76 sits to win majority.
For the upcoming elections, there are 26 different political parties contesting the election. Consequently, of the 26, only 17 are currently represented in Parliament.
In a recent poll by I&O Research, of the 26 parties, three are leading the race.
VVD
The current ruling party, known as People's Party for Freedom and Democracy (VVD), is a conservative-liberal party formerly headed by Mark Rutte.  
Presently, the party leader is Dilan Yeşilgöz (46) who served as justice minister in the last Rutte government. The daughter of Turkish immigrants, she moved to The Netherlands at age seven as a refugee.  
Despite having come as a refugee, Yeşilgöz is promising stricter immigration reform. Notably, her campaigns have expressed a desire for a two-tier asylum system, cancel permanent residence permits, and take control over all forms of migration.   
Furthermore, during her campaign launch speech, Yeşilgöz noted it was not racist to express concern about whether "the Netherlands will remain the Netherlands" with the current influx of migrants.   
Additional issues the VVD also focuses on include housing, the cost of living, and climate change.  
NSC
Known as Nieuw Sociaal Contract (NSC), this political party was formed in August and identifies as new centre-right and anti-establishment.  
Currently, the party is led by conservative Pieter Omtzigt, the former MP of 19 years for the Christian Democratic Appeal. Omtzigt is chiefly known for his role in uncovering a scandal over childcare benefits in which 31,000 parents were falsely accused.  
Surprisingly, this new party has gained extreme popularity since its recent inception. The NSC touts a desire for a new government or complete reorganization of the Dutch state.  
Subsequently, Omtzigt campaign also supports a tighter rightwing line on immigration, proposing a two-status system to distinguish between refugees fleeing political persecution or war, and wealthier migrants.  
Notably, Omtzigt has also expressed interest in tackling the number of international students in the country and (what he considers) the anglicization of Dutch higher education. 
Green Left and the Labor Party
Two separate left-leaning parties, the Green Left and Labor Party joined forces in July. The joint parties are led by Frans Timmermans, the former vice-president for the European Commission. 
Currently, key focus areas for the party are a growing green economy, security, social and climate justice, and environmental reform.  
Further areas of interest include increasing minimum wage, support for lower incomes with pollution taxes, higher business profit taxes, a top rate income tax, "millionaire" wealth levy and curbing tax evasion.  
Remaining Political Parties
Below are some of the additional political parties that Dutch voters will see at the polls: 
Understanding who is the leader for each of the political parties is critical. In elections, Dutch voters do not vote directly for the new prime minister.
Instead, the prime minister is determined by the leading political party. Therefore, the political party that garners the most votes and seats in the lower house of parliament determines the new prime minister.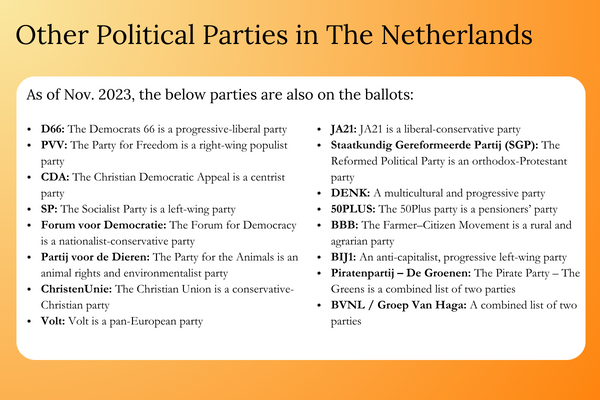 Election Updates
As we near Dutch elections on the 22nd of November, All About Expats will be keeping an eye on any political and voter trends.  In specific, we will track the issues that should be of interest to expats, highly skilled migrants, and the international community here in The Netherlands.  
Therefore, to stay informed be sure to follow us on LinkedIn where we will be sharing relevant news and updates regarding immigration, 30% ruling, housing, education, and more.