About the Netherlands
The official name is Kingdom of the Netherlands. The dutch have a Parliamentary democracy within a constitutional monarchy.  King Willem-Alexander is the official Head of State. The official capital of the Netherlands is Amsterdam but the seat of the government is The Hague.
The kingdom consists of the Netherlands and three territories in the Caribbean: Aruba, Curaçao and Sint Maarten. The Netherlands consist of 12 provinces. The Caribbean Islands Bonaire, Saba and Sint Eustatius are special municipalities of the Netherlands.
Total surface area is 33,800 km2 and is inhabited by 17.214.000 inhabitants (July 2018). The currency is Euro.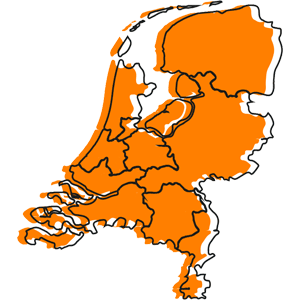 Economy and Finance
The Dutch are the 7th largest global investors of the world (source: CBS).

The Dutch are the 7th largest recipient of foreign investment of the world (source: CBS).

The Netherlands ranks 3rd wordwide by Forbes Best Countries of doing business.

The Netherlands has the 7th highest GDP in the European Union (Source: OECD).

The Netherlands ranks 4th on the 2017-2018 World Economic Forum's list of the 128 most competitive countries.
Health
The Netherlands is the only country which has consistently been among top 3 in the total ranking of any European Index published by the Health Consumer Powerhouse since 2005.
Innovation and Technology
The Netherlands ranks 2nd worldwide on the 2018 Global Innovation Index.

The Netherlands has the 5th highest number of patent applications per million inhabitants in the world.

60% of all Forbes 2000 Companies active in IT have established an office in The Netherlands.

70% of all Dutch Innovation is IT related.

The Netherlands ranks 1st most connected country in the world (source DHL Global Connectedness Index 2018).

The Netherlands has the 2nd highest online connectivity in the world.

13 Universities are in the in top of the Times 200 (2018).
Safety
The Netherlands ranks 20th worldwide in safety (Global Peace Index).
Unemployment rate
In 2020 the Netherlands had an unemployment rate of 4,09%.
English Proficiency
The Netherlands ranks 3rd worldwide in English proficiency (English Speaking Proficiency Index).
Society
In the The Netherlands 200 different kind of nationalities are living.